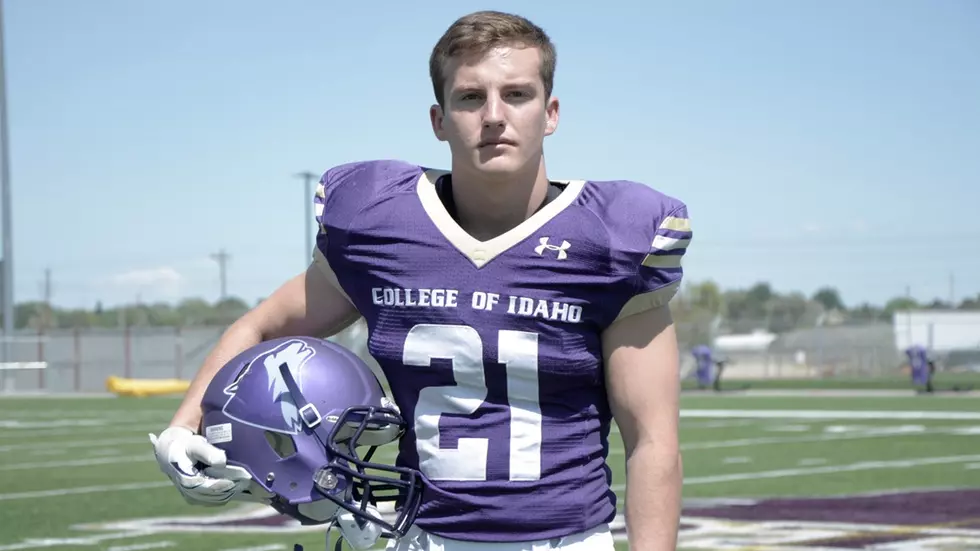 Coyotes Nate Moore NAIA AP All-American
College of Idaho
College of Idaho defensive back Nate Moore was named today a first-team selection to the first-ever Associated Press NAIA All-America Team.
The senior, from Meridian, had been named a second-team All-American by the American Football Coaches Association, while the past two seasons, had earned first-team honors by the AFCA.
Moore led the Coyotes to a 6-5 record, recording a team-high 96 tackles and two interceptions – earning his third-straight All-Frontier Conference selection.  He capped his career with a school record 324 tackles and 62 passes defended, while ranking No. 3 all-time with 11 career interceptions.
Three Coyotes previously earned AP Little All-Americans – Tom WInbigler in 1949, Norm Hayes in 1953 and R.C. Owens in 1954. This year, the Little All-America team – which comprised of NCAA Division II, NCAA Division III and NAIA schools – were split into All-America teams for each separate division.
The selection committee were comprised of media relation personnel and media members from each NAIA football playing conference.
Associated Press NAIA All-America Football Team
Quarterback – Tanner Trosin, senior, Southern Oregon.
Running backs – Bubba Jenkins, senior, Morningside; Justin Green, junior, St. Francis, Indiana.
Linemen – Trae Bradburn, senior, Morningside; Justin Hunter, senior, Saint Xavier; Trey Coney, sophomore, Reinhardt; Chris Emter, senior, Carroll College; Xavier Carter, senior, Reinhardt;
Tight end – Trenton Poe-Evans, sophomore, Kansas Wesleyan.
Receivers – Hayden Adams, senior, Dakota Wesleyan; Connor Niles, junior, Morningside.
All-purpose player – Charles Ducksworth, senior, Point.
Kicker – Daniel Martinez, senior, Wayland Baptist.
Linemen – Jamarae Finnie, senior, Langston; Evan Sprayberry, junior, Tabor; Tevin McCoy, junior, Reinhardt; Resean Coleman, sophomore, William Penn.
Linebackers – Caden McDonald, senior, Morningside; Piercen Harnish, junior, St. Francis, Indiana; Thomas Sease, senior, Dickinson State.
Backs – Darius Price, senior, Siena Heights; Tomunci Whitfield, senior, Southwestern, Kansas; Tarence Roby, senior, Concordia, Nebraska; Nate Moore, senior, College of Idaho.
Punter – Derek Brush, senior, Arizona Christian