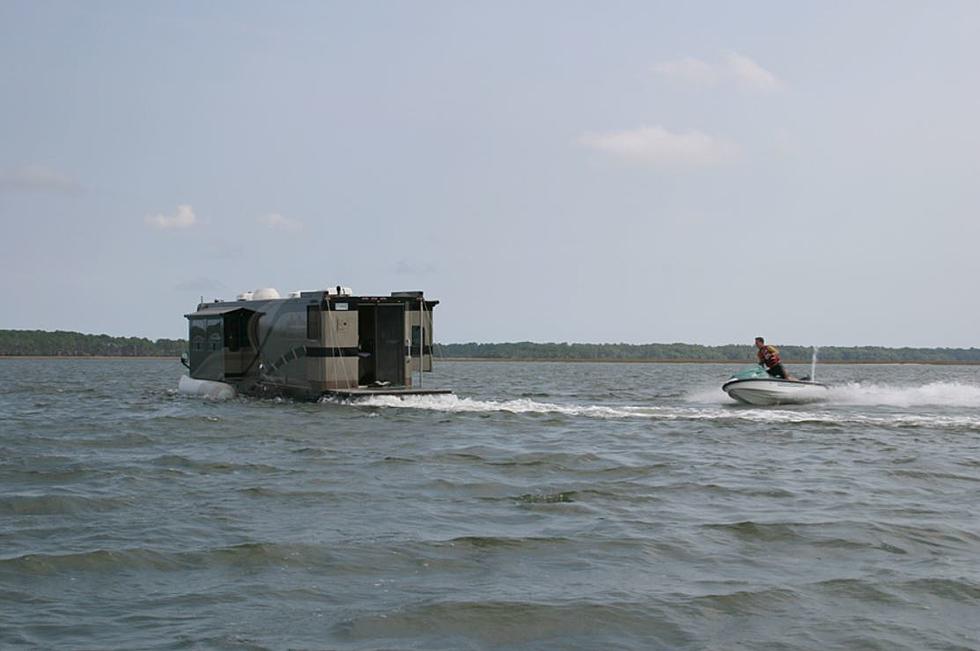 Idaho Lakes To Take The Amphibious RV On – It Drives & Floats!
CAMI RV that can go in Lakes too, Photo from camillc.com/terrawind/
My man Kris and I are in a debate on if we should get an RV or a boat first. With this gem (that is way out of our price range) we could have both. The concept of a massive luxury RV that can also float and move around in water seems impossible. But it is very much here and the videos are very impressive.

According to The Drive, The Terra Wind is an amphibious motorhome built by CAMI that can travel up to "80 mph on land and up to 7 knots on the water," CAMI is an amphibious vehicle specialist that's been building a variety of multi-purpose crafts for years. This home on wheels that can also swim has a price tag of around $1,000,000.
It comes equipped with weather radar, sonar systems, and an anchor so you can use it as a kind of house boat if you get tired of the RV park. It is made for fresh water, not salt water, so no ocean voyages. Amphibious buses and vessels like this have been around for a few years but not widely used. I know I have never seen an RV drive into a lake before and I spend quite a bit of time around lakes in Idaho with my much less expensive paddleboard.
Just in case you do have a cool million to spend on a toy like this here are some of the best places in Idaho to take it out for a joy ride and a swim. P.S. Please take me too ;)
According to The Crazy Tourist, these are the top 15 lakes in the state of Idaho:
15. Deadwood Reservoir; Valley County
14. Lucky Peak Reservoir; Ada, Boise & Elmore counties
13. Warm Lake; Valley County
12. Alturas Lake; Blaine County
11. C.J. Strike Reservoir; Owyhee & Elmore counties
10. Sawtooth Lake; Custer County
9. Alice Lake; Blaine County
8. Henrys Lake; Fremont County
7. Stanley Lake; Custer County
6. Lake Cascade; Valley County
5. Priest Lake; Bonner County
4. Redfish Lake; Custer County
3. Lake Coeur d'Alene; Kootenai & Benewah counties
2. Bear Lake; Bear Lake County
1. Lake Pend Oreille; Bonner & Kootenai counties
15 Hilarious Yelp Reviews of Boise Beaches, Parks and Trails
Negative or positive, some of the reviews of Boise's favorite outdoor places to relax will actually make you laugh out loud.
Blue Heart Springs
Blue Heart Springs on the Snake River
Stunning Garden Valley Cabin Has Its Own Private Hot Spring