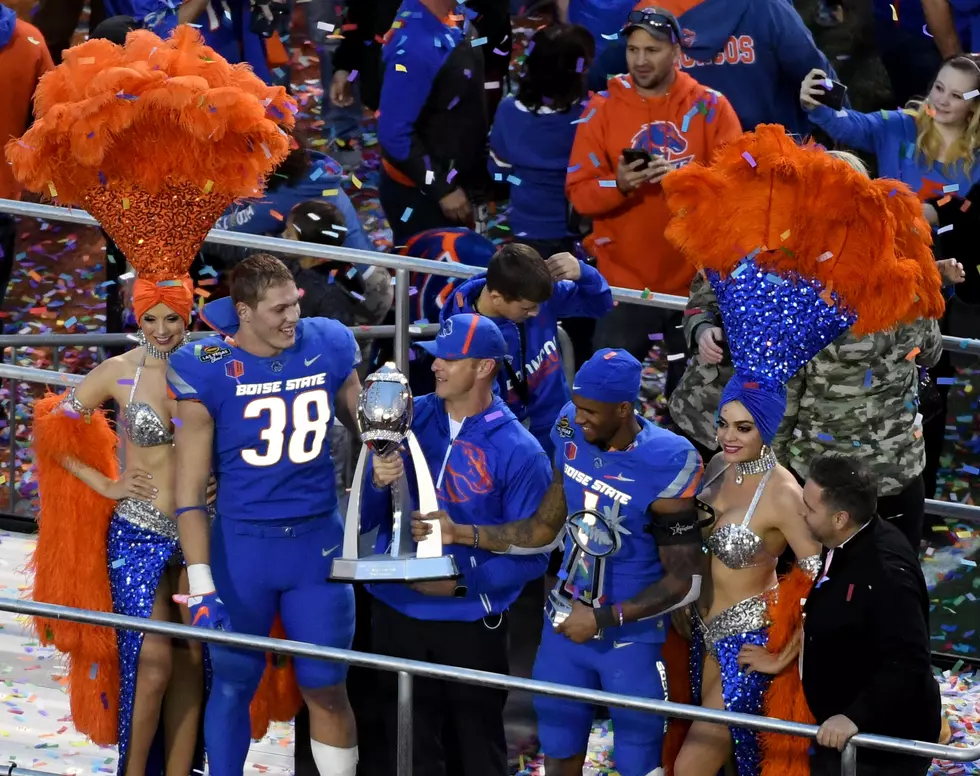 Getty Images
Boise State finished off the 2017 football season with a 38-28 win over Oregon, winning the Las Vegas Bowl to post an 11 game win season at 11-3. They'll also be ranked in the Top 25 when the final polls are released.
Is that enough to say the Broncos accomplished all their goals for 2017?
In a nutshell, yes! This was an inexperienced young Boise State squad that turned into an 11 game winner, conference champ and Bowl winner.
Four weeks into the season Boise State was 2-2 and struggling to figure out who they were and what they were made of.
Nobody talks about it now but the 2017 Boise State football team hit a mental roadblock when they blew a 31-10 lead at Washington State with 6 minutes to play in the game.
Having started the year with a win over Troy, who also won 11 games this year, the Broncos were well on their way to beating a Power 5 team and a top 20 team on the road.
When everything collapsed, a pick six, an errant punt that hit a BSU blocker leading to an easy Cougar score and then a loss in double overtime this young team was left to wonder what had just happened.
Before they could recover, Virginia came to town and the Cavaliers took advantage of a bewildered Bronco team that let Washington State beat them twice.
The bye week came at a masterful time and Boise State refocused and won 9 of their last 10 games. It was a 10 game stretch in which the 2017 Boise State team defined it's identity and but for the future while strengthening the present.
Even in Saturdays Las Vegas Bowl little was said about the absence of running back Alexander Mattison and tight end Jake Roh. Roh didn't play at all and Mattison very little as others picked up the slack. Boise State didn't make a big deal of key injuries they just looked to the next guy to step it up...and they did!
While Oregon bemoaned the fact Royce Freeman wouldn't play to protect is NFL value, Boise State just played.
Now 3-0 against Oregon all time, 4-0 at the Las Vegas Bowl the Broncos take a much needed break before turning to 2018 and the likes of Oklahoma State in Stillwater, at Troy, remember them and then BYU along with the Mountain West regulars like San Diego State, Air Force and so on.
If this young team thought it was hard growing up this past season the new challenge will be handling the expectations of 2018 earned through their growth in 2017.